...Emphasis on the LAZY.
I really am not getting much sewing done these days, but in my defense, I have still been staying busy. People have been coming in to visit from out of town, I'm going to the gym a lot, then spent half the weekend brewing beer and the other half taking care of a sick dog. Yay!
Then yesterday my boyfriend and I decided to drive the 3ish hours to Austin to hear and meet Patrick Rothfuss, an absolutely amazing fantasy author. If you even remotely enjoy fantasy, check his stuff out! Totally worth cramming in 7 hours of driving into a 11 hour period of time because he was so hilarious and charming. Here he is in all his glory!
Ernest Cline, another great fantasy author (or does he count as sci-fi?), stopped by the reading/signing and parked his DeLorean out front for everyone's enjoyment. Here I am full of enjoyment and coffee in preparation for the 3ish hour drive home.
But if we want to look at actual sewing, here is what I have accomplished. Most importantly, progress was made on my goal for the June edition of LYoF. I quilted the veins in the eyeball quilt and luckily I like the way they came out. I say luckily because I ripped and restitched three times before this point. Ignore the reference markings that will [hopefully] wash out.
I also started using my "Rapid Fire Lemoyne Star" ruler that had been sitting on a shelf since I purchased it on New Years day. It makes 8 point stars ridiculously simple. Don't ask what I'm using these stars for, because I have not a clue.
It is supposed to also make them fast. Once I practice a little more and and use it without stopping to read directions, it feels like it will be tremendously quick! But who cares about that, because look at these seams! Thanks, ruler!
On Sunday I was accidentally elected as Vice President of the local homebrewing club. I guess that means it is time for me to finally start wearing a name tag, huh? But my hesitation is not that I don't want people to know my name but in the hatred of a hypothetical plain white tag crudely bescribbled with "Sabrina". For over two years I have been talking about sewing a cute one, but it had to do with beer and designs like that are apparently rare. Then I found this beer at a Whole Foods in Austin yesterday.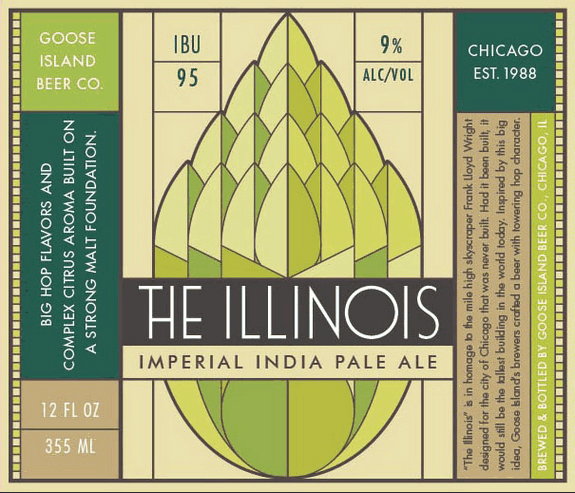 Zomg! Art deco hop?!?! SOLD! Have yet to actually taste it, but it is chilling in the fridge. So I tried to brainstorm how quickly I would want to commit seppuku if I tried to applique all the teeny tiny bits. Maybe embroidery is the answer? I'm going to use the space where the beer name was for my name. I already got started stitching the outline. Mine is not that awesome, but maybe with some color it will be. Side note: I now want an art deco hop tattoo.
Then we have some cooking... Let's start with veggie pasta (no, really, the noodles are made of veggies) with more veggies, tons of garlic, and venison summer sausage.
Followed by a recreation of my favorite dish in Hawaii, green bean and spam stir fry with coconut rice. The recipe needs a little tweaking, so I'm not ready to share yet. Sorry.
Aaaand that's it. What have you been up to?